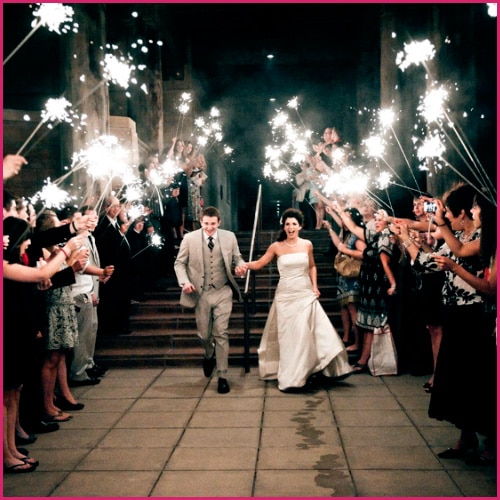 10 inch sparklers are by far one of the most popular sizes for all types of events. They are the least expensive of all the different types of sparklers, and almost every fireworks store carries them in a very large supply. 10 inch sparklers can be used for a variety of different purposes at a variety of different events, but most people are familiar with using them on the 4th of July. However, there are other fun times where they are useful as well, and I will cover some of my favorites below.
Birthday Parties
Birthdays are a great time to use sparklers as part of the celebration, especially when you are expecting children to be there. 10 inch sparklers are the perfect choice for all sorts of great uses at a birthday including handing them out to the kids or even sticking them into the birthday cake. Everyone will love the sparklers at your birthday party and it will be an even more memorable event.
Weddings
More and more couples are having sparklers at their wedding, and there are several great ways to use the 10 inch ones in particular. All of your guests will love using their wedding sparklers as part of your grand exit in place of other items such as confetti or birdseed. You can also leave some scattered around the reception hall on tables so your guests can enjoy them whenever they feel like.
4th of July
Though it is certainly the most common time to use sparklers, the 4th of July is another great holiday where you can use your imagination to come up with fun ways to use 10 inch sparklers as part of the patriotic celebration. Most people just light their sparklers and watch them burn while they hold them in their hand, but you can also do something more fun like sticking them into the ground or into a cupcake to make it an even better experience. The huge bonus with sticking them into the ground is that you won't have to worry about burning yourself, but the smoke will also keep all the bugs away from you and your guests.